On the role of onboarding in the employee motivation process
Category: Motivation and Commitment, Recruitment and Career
Onboarding, i.e. the welcome of a new employee in the company prepared by the employer, is one of the most important tools thanks to which we gain the involvement and favor of new employees. A well-prepared, and later kept schedule of the first days of a new job, allows you to increase employee motivation and guarantees a good impression that will stay with the participant for a long time. Unfortunately, in Poland onboarding is a relatively new phenomenon, which is why it is often neglected, and many organizations do not apply it at all.
The first impression can only be made once!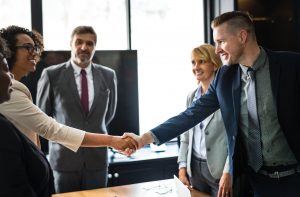 Psychologists say that an opinion about a new person is created in our head during the first few minutes of contact. It can be successfully applied to a new job, only the scale of the situation is completely different, and we shape the impression about the company within the first 2-3 days. It is worth noting that at the same time the employee is exposed to high levels of stress, which can also negatively affect his assessment of the new environment. According to the research – most people decide to change jobs during the first week in a new place! So if the first impression turns out to be bad – the employee does not know what to do, the desk and equipment necessary for work are not waiting for him, the people are surly, and the boss does not have time for him – all our effort in recruitment will be wasted. What to do to avoid such situations in your company? Discover the recipe for perfect onboarding for your new employees!
Start before starting!

Perfect onboarding should start before the first day in the office. After completing the recruitment process, the employee should feel that not only he is waiting for work, but also work is waiting for him or her. It's worth making sure you don't have to find out everything on your own. A good solution would be a mail sent a few days before starting work. It is necessary to include a contact to the person to whom the new employee should be referred in the first steps. And also information about the date and time of starting work and a map – both the office and the immediate area, with parking for cars and bicycles as well as the nearest store or canteen. If it is customary for everyone in the company to have their own coffee mug, this is also worth mentioning. For the employer, preparing such information takes a few minutes of work, while the employee will gain very valuable tips that will help him find. Well, definitely such a welcome email will be a pleasant surprise.
Prepare the workplace and take care of the companionship!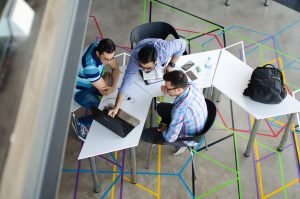 Can you imagine starting work worse than when no one has the time for you and you don't even have anywhere to sit? It seems trivial to us, but in many companies this is the standard for recruiting new employees. People who cannot find themselves in the new reality immediately makes a horrible opinion about the company and actually only think about surviving until six.
All the more onboarding should focus on organizational matters. A well-prepared workplace, time to meet team members and a tour of the office and a coffee maker or bathroom are the bare minimum. For old employees, it is obvious, but there are jokes about how many times nobody touched the espresso machine in fear of pouring water into the grain tank …
A good solution, more and more often used during implementation programs, is to appoint a guardian who accompanies the new employee in the first days, while being released from other duties at that time. Gathering new employees into groups and onboarding together and at the same time is another interesting custom. The acquaintances made in the first moments of a new job often change long-term friendships, even if we work in completely different teams!
Do not overdose information in the first days!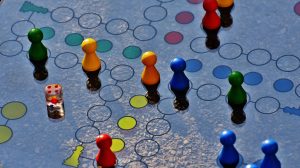 Many bosses tend to fill the first days of work with a huge amount of training, with an overwhelming amount of new information. Unfortunately, high stress means a weakening of the ability to remember, and it may take several weeks for a completely new product and industry or work rules to be absorbed. Indeed, the first days should be filled with knowledge, but transmitted in an accessible and preferably unconventional way. Implementation programs built on the principles of game or gamification are becoming increasingly popular. Generations that are now entering the labor market will appreciate this model much more than classic lectures.
It is also worth preparing a knowledge base and additional materials that the new employee will be able to refer to in the future. Of course, they should include regulations or hints on the principles of work, but you can also include marketing materials that will facilitate familiarization with the product, presentations about the company's history and organizational structure, as well as a guide on the benefits program, including tips on how to use them.
Think about what you want to achieve!
Depending on the company profile, various aspects may be important to highlight during onboarding. However, regardless of what an organization does, it is important that onboarding is a thoughtful and well-prepared process. If your implementation process is not perfect or there is none at all, you might want to consider making changes! It may turn out that at a low cost you will reduce employee turnover and contribute to building the image of a brand that cares about every detail – from the very beginning!